Choosing frames for your bathroom mirror
When we frame the mirror in the bathroom, it actually adds the personal attachment. As we often use this room, personal sentiment is important. Moreover, it also shows our characters. We can choose elegant black gilded frames to fit our elegant style, or when you are a brave person maybe you can choose anti mainstream customized frame. Unique frames are also available when you want it that way. Classic style may be reflected from embellished or beveled mirror frames that give more accents to the bathroom. You can also make country or rustic look by using wooden frames.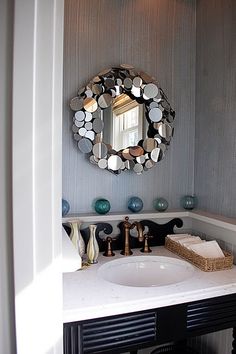 The first one is that framing mirrors helps us to accentuate bathroom. In a neutral toned bathroom, this would significantly beneficial. We can choose any material whether it is metal, wooden, or plastic as the frames. Types of frames are numerous nowadays that we can fit them as we wish with our bathroom. Dark or light color can be chosen to adjust with the whole tone of the bathroom as well. We can choose simple bathroom mirror frame to deepen modern impression, etc.
Bathroom is one of the most important part of the house that we likely to use more often than the other room. Certainly this room is full of stuff and frequently looks cramped. Well, not all people have over sized house so that he has spacious bathroom. Sometimes we should face a condition like how to be in a bathroom without being claustrophobic. This is the importance of bathroom mirror. It makes the look of the bathroom twice larger than the original size. This works especially for overlarge mirrors. However, mirror in the bathroom is just plainly hung on the wall. Nonetheless, we can frame it and get some benefits by framing bathroom mirrors.
Capture your happiness moment with Halinh Picture Frame! :D
Let visit our website at: http://www.kthalinh.vn/en or our fanpage: https://www.facebook.com/pictureframes.33.22/ or our representative office at 69 Le Van Luong Street – Thanh Xuan – Hanoi .
You may concern:
PS frames
,
picture frames,
photo frames
,
classical picture frames
,
decorative frames
,
plastic picture frames
,
bathroom frames
,
embossed frames
,
plastic frames
,
wooden frames
,…
Halinh Picture Frame - your best companions to capture all of your happiness moment. Your satisfaction is our success.